Archive for the 'Uncategorized' Category
Viva Las Vegas is proud and excited to bring you the Stars of Sun Rockabilly Show at VLV21! We have gathered together as many of the vintage Sun Records acts that we could and we hope to add to the list as we get closer to the event.
Here is just a taste of who you can expect to see and hear: Carl Mann will be doing his favorite hits such as "Mona Lisa" and "Pretend". Hayden Thompson has recorded some of the best Sun Rockabilly tracks EVER and you can bet we will hear "Fairlane Rock" and "Love My Baby". We also have Narvel Felts, who actually lives on a street named after him. We are looking forward to hearing "You Dont Care". "There'll Be No More Crying the Blues" is another one of the Sun rockabilly classics by Alton & Jimmy and they are definitely part of the show. Sonny Burgess was booked for this show but as I am sure you know, he recently passed away. His backing band, The Pacers, will be doing a tribute to Sonny, who has a ton of great rockabilly tracks. He will surely be missed. Johnny Powers and Rudy Grayzell came to Sun Records a little bit later and they recorded great tracks such as, "With Your Love, With Your Kiss" (JP) and "Judy" (RG).
LISTEN TO CARL MANN: https://youtu.be/ZDqBIzbNt10
LISTEN TO JOHNNY POWERS: https://youtu.be/N0V3hxK-a5k

LEFT TO RIGHT: CARL MANN, HAYDEN THOMPSON, NARVEL FELTS, JOHNNY POWERS AND RUDY GRAYZELL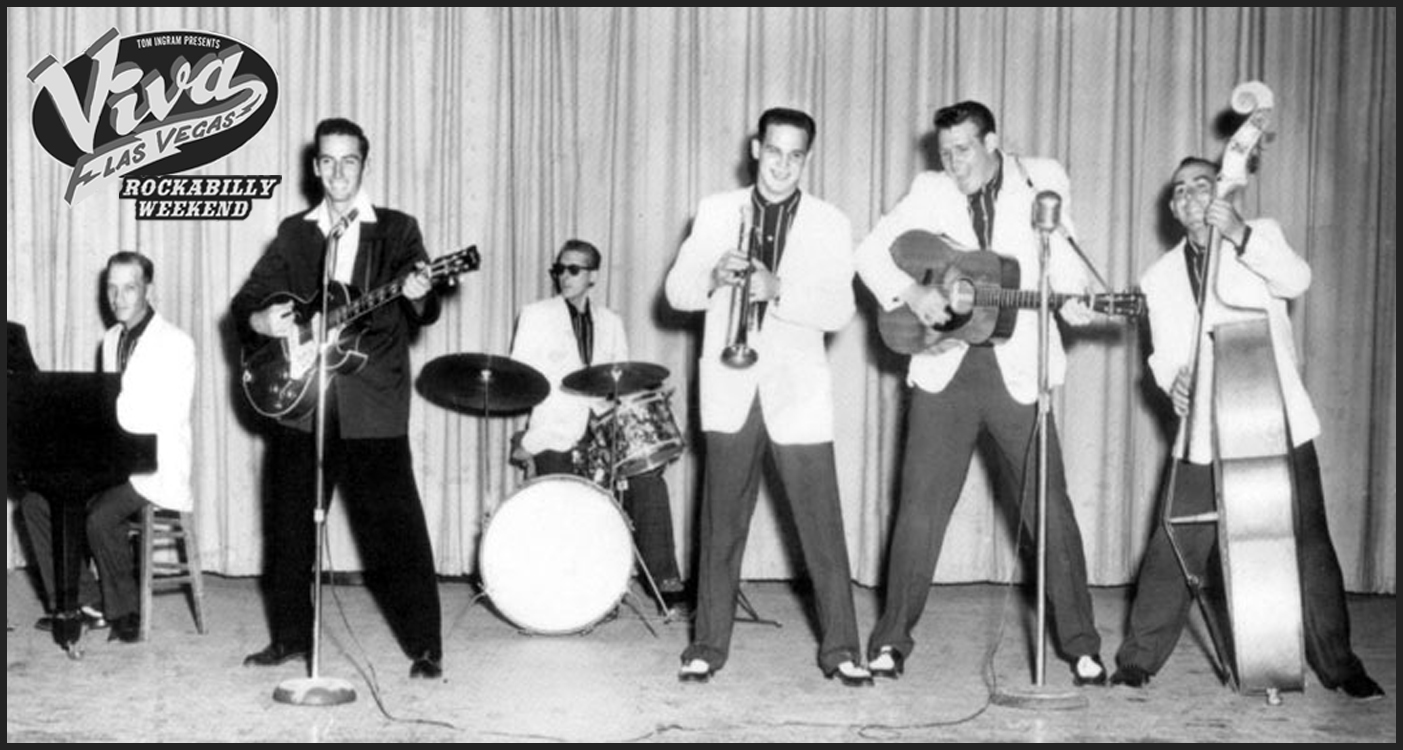 This show will also include 2 of the Sun drummers from the 1950's. Jimmy van Eaton has played on so many great songs by acts like these; Jerry Lee Lewis, Billy Lee Riley, Roy Orbison, Johnny Cash and many more. He has a lot of great hits to choose from! WS Holland played with Carl Perkins, Johnny Cash and The Million Dollar Quartet so he equally has a long list of songs he can play.
If you are a huge rockabilly fan, you won't want to miss this once-in-a-lifetime show of Sun Records legends at Viva Las Vegas #21 in April- be sure you buy your High Roller passes before they sell out!