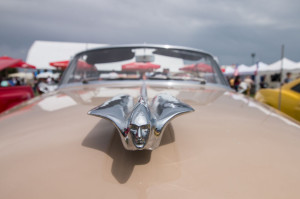 If there's anything Las Vegas knows how to do, it's put on a show, and the Viva Las Vegas Rockabilly Weekend is no exception! Imagine stepping back in time where classic cars shine brighter than the Nevada sun, the fashion is feathered and full of flair, and the music is a blend of old-school rock 'n' roll and swinging blues. Welcome to the Viva Las Vegas Rockabilly Music Festival and Car Show, the longest-running music festival in Las Vegas!
The History That Rocks
The festival first came to life in 1998, envisioned and brought to the stage by Tom Ingram, a dedicated fan of the '50s music and vintage scene. What started as a modest gathering has, over the years, transformed into a grandiose event attracting thousands from around the globe. Held annually at The Orleans Hotel and Casino in Las Vegas, this nostalgic celebration has been running for over two decades and has expanded from a small music event to a comprehensive cultural phenomenon.
A Time-Traveler's Delight
Attendees of the Viva Las Vegas Rockabilly Weekend can expect a sensory overload in the best way possible. For starters, the music lineup is always an eclectic mix of rockabilly, swing, and surf bands, alongside legendary musicians from the '50s and '60s, and fresh talent keeping the rockabilly spirit alive. Over 75 bands and 20 DJs are typically featured, providing non-stop music and dancing that can keep you bopping till the early hours of the morning.
But it's not just the music that draws the crowds. The vintage car show is a massive attraction, showcasing around 800-1,000 classic cars, all pre-1964, reminding us of a time when vehicles were not just a mode of transport but a work of art. Car enthusiasts can revel in the beauty of these timeless machines, chat with the owners, and even pick up a treasure at the car corral.
Fashion is front and center with attendees and performers donning period-appropriate attire, making it feel like a 1950s film come to life. Various vendors sell vintage and reproduction clothing, accessories, and memorabilia, allowing you to take a piece of the past home with you. And don't miss the Pin-Up Beauty Academy for lessons in vintage-style hair and makeup!
Why You Should Attend
The Viva Las Vegas Rockabilly Weekend is more than a festival; it's an experience. It's a chance to live in a bygone era that has had a lasting impact on our culture. This event is perfect for die-hard rockabilly fans, vintage enthusiasts, and even those with a passing interest in times gone by. It offers a unique opportunity to be immersed in the music, fashion, and atmosphere of the rockabilly world.
Moreover, it's set against the backdrop of Las Vegas, a city known for its vibrant nightlife, entertainment, and gambling. Known as "The Entertainment Capital of the World," Las Vegas ensures that there's never a dull moment. When you're not busy at the festival, the city offers endless shows, events, incredible dining experiences, and, of course, the chance to test Lady Luck in its famous casinos.
In essence, attending the Viva Las Vegas Rockabilly Weekend is an opportunity to escape the modern world and indulge in the carefree spirit of the '50s and '60s, all while enjoying the thrills that Las Vegas has to offer. It's a music festival, a car exhibit, a fashion show, a dance hall, and most importantly, it's a community of people coming together to celebrate the past while creating unforgettable memories in the present. So, don your best vintage attire, practice your dance moves, and prepare for a weekend you'll remember for years to come. Viva Las Vegas, baby!