FRIDAY, SATURDAY & SUNDAY
PRESENTING SPONSORS:


The Tiki Pool Party has become one of the major events at VLV, and will take place on Friday, Saturday, and Sunday. It is a great opportunity for girls (and guys!) to show off their vintage swimwear.  The Pool Party will begin early, at 11am, on Sunday!
CABANAS AT VLV
The drawing for the cabanas at the VLV Pool Parties is being done and the hotel will start contacting people today. The VLV cabana package is below.
Daybeds will be offered again this year at $250 no food and $300 with food, two choices package #1 or #2. 


---

VLV Fun at the Women's Vintage Swimsuit Contests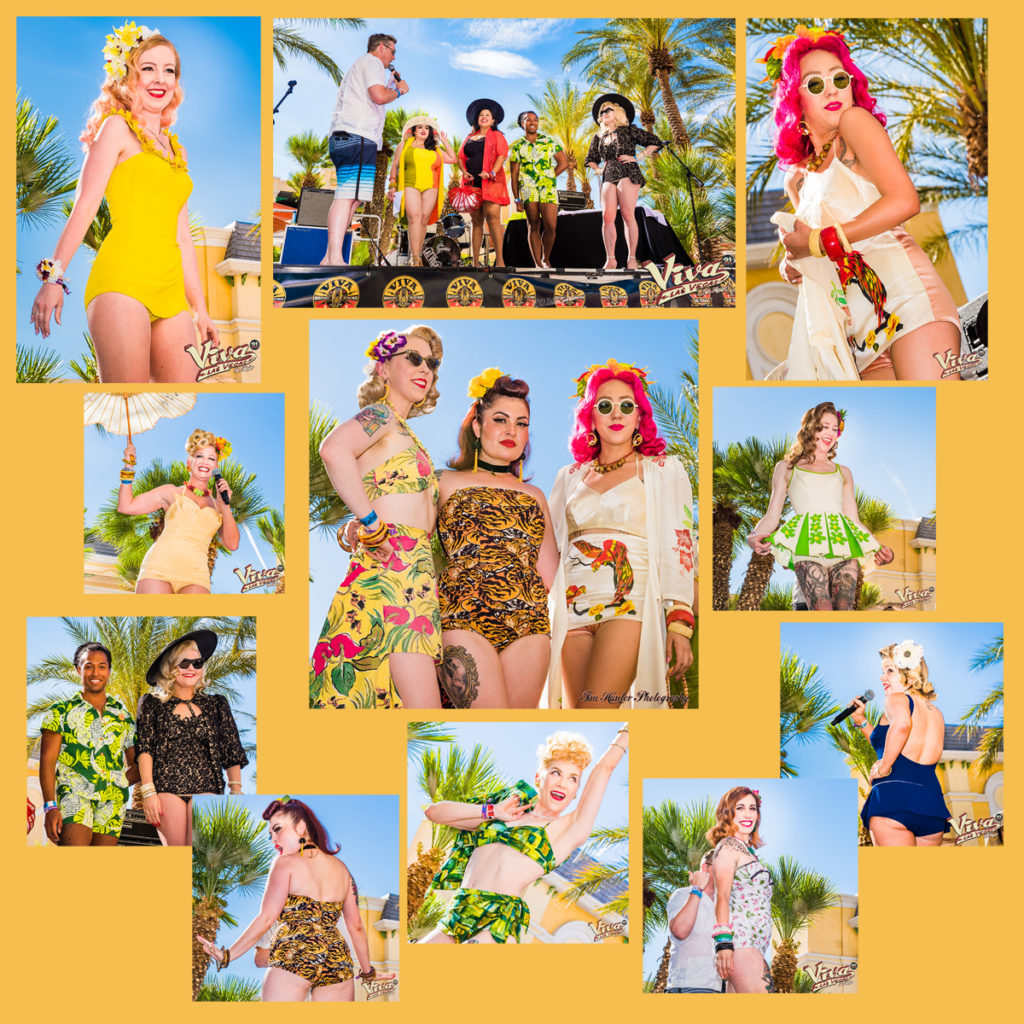 Are you a vintage swimwear enthusiast! Well, come out for 3 days of fun in the sun while wearing your best poolside attire.
We have 3 fun, fashionable contests over the weekend!
Friday at 3:45 PM: Men's swimsuit contest
Saturday at 3:45 PM: Couple's Swimsuit contest
Sunday at 3:45 PM: Women's Swimsuit contest
We're looking for contestants with the best AUTHENTIC VINTAGE (pre-1970) swimwear. If you would like to compete in one of the contests, please follow the guidelines below.
The Men's Swimsuit Contest & the Couples Swimsuit Contest do NOT require pre-registration. Men and Couple's arrive no later than 2:30 PM.  Please go to The Pretty Dress Company Cabana at the Pool Party to sign in and receive your number, it's as easy as that!
The Women's Swimsuit Contest on Sunday requires pre-registration, no walk-ups will be accepted. Please email your full legal name, your stage name (if applicable), your contact phone number and a photo of the vintage swimsuit you plan to enter the contest wearing. At this stage of the contest, the judges will pick finalists to walk the stage based on the photo of your swimsuit alone, so make it a great one! Please submit your information to: robbyn@vivalasvegas.net for consideration. Any emails that do not contain all of the criteria above will not be considered.
Women's swimsuit registration deadline: Sunday, March 19th. Announcement of finalists: Monday, April 3rd.
General Rules for all Contestants:
If you arrive after the scheduled call time, you will not be entered in the contest.
You must be in vintage.
You will be judged on vintage attire, coordinating accessories, stage presence and personality.
Previous first place winners may not enter.
Don't forget sunscreen and to have FUN!
See you poolside!