Hosted by Stedfast Tattoo Parlor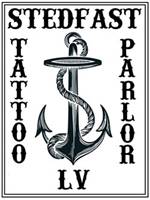 The Viva Las Vegas Tattoo Lounge hosted by StedFast Tattoo Parlor! Filled with some of the Industry's Top Traditional Tattoo Artists, as well as some legends in Tattooing, The Lounge runs from Noon to Midnight all four days of VLV!
For Tattooers who would like to take part in the action please email links to work or portfolios to stedfasttattoo@gmail.com!
Here is some information about the Tattoo Artists that will be at VLV20
ROCKABILLY RAY (TINTA REBELDE)
Rafael Sanchez AKA Rockabilly Ray is from Los Angeles. Owner of Tinta Rebelde Custom Tattoos. With over 20 year of experience, he is a famous tattoo artist who mixes his Mexican heritage and love for Rockabilly culture to break the rules of typical American tattoo artistry. Specializing in bright colors, bold lines and of course great tattoos! For more info about Ray you can add him on Facebook or follow him on Instagram http://www.facebook.com/rockabillyray13, http://www.instagram.com/rockabillyraymerlin, http://www.facebook.com/tintarebeldedtla To book appointments with Rockabilly Ray during the weekender, call him at (562) 325-7101 or email tintarebelde@gmail.com.
TATTOOS BY LOAF
This will be Loaf's 3rd VLV, coming all the way from Detroit, MI. loaf specializes in American Traditional tattoos as well as Sacred geometry. He will be dishing out jokes all weekend for only 25 cents a pop. So be sure to book your appointment with him y heading over to: www.tattoosbyloaf.com
JAMES WHITE (CRIMSON MOON TATTOO)
James White (aka Jimmy Jam) from Whittier, CA is a diverse tattooer.  He can pull off anything from American Traditional to Neo-Traditional to Black & Grey Portraits.  Living the ultimate dream, James tattoos throughout the year while touring the world with his band.  Check out Jimmy Jam's facebook page facebook.com/jimmyjam87.  To book time with Jimmy Jam during the weekender, call him at (562) 360-0342 or email him at iamjimmyjam@yahoo.com
LLOYD PARRACK (GYPSY ROSE TATTOO)
Lloyd Parrack is a Phoenix AZ local. Tattooing for over ten years owner of Gypsy Rose Tattoo. Check out Lloyd's work on Instagram @lloydparrack !! You can book appointments with Lloyd by calling (602) 570-2048 or email him at lloydgypsy@gmail.com !!
LANCE WHITE 
Based out of Orlando Florida, bringing Bright and bold tattoos out to VIVA for the fourth year. I will be taking walk ups and appointments all four days at the weekender. Check out my Instagram @lancewhite_cit for recent works. Contact me at lancewhitetattoos@gmail.com or call/text (407)844-8665 for appointments.
DAVE POOLE (ROCKABILLY TATTOO)
I've been tattooin for 18 years now and love workin in most styles..!!! I love doin tattoos for people who care about themselves and what goes on their bodies!!! I own RABT&P FL/NC and I'm lookin forward to meeting you..!!!! ÂTo contact Dave for appointments, please call 954-746-7570 or email discodp@yahoo.com
LORNE MORRIS (ROCKABILLY TATTOO)
Lorne hails from the Midwest and is a true tattoo craftsman. With a deep-rooted working class background, Lorne puts the upmost pride and integrity into every tattoo he creates. He enjoys doing American Traditional, Portraits/black & gray realism, custom lettering yet is not pigeon holed into any specific style. Lorne has over a decade of working experience and has been at Rock-A-Billy Tattoo in South Florida since 2008. 2017 will be his fifth year tattooing at VLV. Lorne is one of the few original VLV Sailor Jerry Tattoo Lounge Artists left in the line up, making him a Viva Las Vegas veteran. To set up an appointment contact him via email at LDMTATTOO@gmail.com, call or text (954)482-1001. To view his work follow him on Instagram @LDMTATTOO
GREG De HOOT (OAK CITY TATTOO)
All the way from Raleigh, North Carolina, Greg De Hoot is striving to pursue this craft with the utmost respect and hard work it deserves. Greg will be returning VLV again this year. He enjoys executing many styles of tattooing as his portfolio will show. To set up an appointment contact him via email dehoot@gmail.com or call (415)305-0305. To view his work visit www.GregDeHoot.com.  Follow Greg on Instragram @GregDeHoot and on Facebook, Facebook.com/GregDeHoot
LEO VILLASENOR (FOX & HOUND TATTOO)
Leo "Catman" Villasenor is an award winning artist based out of Las Vegas NV. He is well versed in all styles of tattooing but specializes in Traditional Americana. To set up an appointment contact him via email catmanrxcx@yahoo.com or call (702)432-4828.  Follow Catman on Instragram @catmanrxcx and on Facebook, https://www.facebook.com/catmanrxcx
CHRIS deARMAS (BROTHER GREG'S SAN CLEMENTE TATTOO)
Specializing in hand-drawn, hand-made traditional tattoos, Chris resides in the beautiful, sunny San Clemente, California tattooing at Brother Greg's San Clemente Tattoo.  To set up an appointment contact him via email tat2bychris@gmail.com or call (949)257-8215.  Check out Chris' work on www.boldholds.com.
PAUL ALVARADO (NO REGRETS TATTOO)
Paul (pokey) Alvarado is a tattooer from Orange County, CA. Pokey's love for bold, bright, solid tattoos is represented in most of his work and is honored to be a part of such an amazing event. Go check out his portfolio on instagram @pokey_tattooer. For appointments text him 714-402-9485 or email him at pokeytattooer@gmail.com
DEVAN PICCOLO (HIGH CLASS TATTOO)
Devan Piccolo is a tattooer from Fresno, CA that enjoys making bright and bold tattoos that last the test of time. Follow Devan on instagram @phushstuff. For appointments call 559-222-252 or email him at devan.piccolo@yahoo.com
ART GALLANDO (INFAMOUS INK)
A modern take on the traditional tattoo. Art has been tattooing for over a decade and knows that a tattoo is not a tattoo unless it has the lines and the black.  Art is well versed in all styles but loves traditional. For appointments email him at gallardocreativestudios@gmail.com
LYDIA DUDOIT
Lydia is a 8 time award winning tattooer with this April making lucky 13 years of tattooing! Lydia travels often between Hawaii and Las Vegas showcasing work based heavily  in American Traditional styles from the 1940's-1960's. Lydia's designs and process take a new approach on classic and timeless designs to create custom tattoos that look great for many years to come. To book appointments call or txt 702-660-1922 or message on Facebook or Instagram at LydiaLoyalty.