Hosted by Stedfast Tattoo Parlor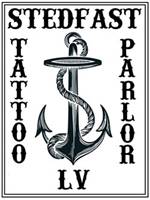 The Viva Las Vegas Tattoo Lounge hosted by StedFast Tattoo Parlor! Filled with some of the Industry's Top Traditional Tattoo Artists, as well as some legends in Tattooing, The Lounge runs from Noon to Midnight all four days of VLV!
For Tattooers who would like to take part in the action please email links to work or portfolios to stedfasttattoo@gmail.com!
Here is the list of tattoo artists at VLV26
ROCKABILLY RAY
LLOYD PARRACK 
LANCE WHITE 
DAVE POOLE 
GREG De HOOT 
CHRIS deARMAS 
PAUL ALVARADO
DEVAN PICCOLO
HECTOR VALENZUELA
NESTOR GONZALES
BRUNO CORSO
STEVE VON RIEPEN
MIGUEL MONTELEGRE
JORDAN YESCAS
FRANCISCO PAREDES