Archive for the 'Uncategorized' Category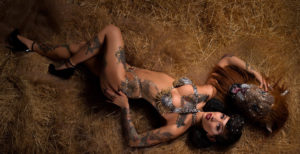 Frankie Fictitious won the Burlesque Competition at Viva Las Vegas #20 in 2017 and since then has been winning titles all over the US! We asked her some questions about her background in burlesque as well as for some advice for those looking to compete in the future. Of course we also wanted to know her favorite drink! Read on and get to know Frankie Fictitious!
M.S.     Let's start with the obvious: How did you discover burlesque and get into performing?
F.F. I've always been drawn to all things vintage whether it be lifestyle, fashion, or music. Naturally that led me to see Dita Von Teese. When I saw her Swarovski encrusted costumes on stage I knew that's where I wanted to be! I then sought out Fishnet Follies Classic Burlesque Revue in Oakland, CA and took classes.
M.S. How did you feel before your first show? How did it go?
F.F. Before my first performance, oh my I was so nervous. I kept asking myself "What did I get myself into?". Soon enough my music started, my muscle memory took over, and it was over before knew it! I couldn't tell you what I did up there, my adrenaline just took over. All I know is exiting the stage I had an overwhelming feeling of joy and I was ready to do it again! I still get those same nerves to this day, but a little nerves are a good thing that keeps us excited about what we are doing.
M.S. Tell us about your first costume.
F.F. My very first burlesque costume was based off of 1920s under bits, it was all gold fringe with not a single rhinestone on it.
M.S. Who are your main inspirations?
F.F. My biggest inspirations are Dita Von Teese, Katy Perry, Lou Lou D'vil and fashion designer Guo Pei.
M.S. Got any big burlesque goals?
F.F. My goal as a burlesque performer is to be able to travel and share my art with the world.
M.S. What is your favorite virgin or alcoholic cocktail?
F.F. Pops Rumpopo
M.S. How long have you been attending Viva Las Vegas and what is your favorite/interesting memory from the event?
F.F. This is my third year attending Viva Las Vegas. My favorite part about the event is being able to get to know so many awesome people!
M.S. Now, You competed in the Viva Las Vegas Burlesque Competition before. What made you decide to submit to again? How did you choose your act this time?
F.F. I competed in the Viva Las Vegas Burlesque Competition in 2016, that year I received the lowest amount of applause from the "applause-o-meter", my ego was shot after that. I was feeling a little discouraged and I didn't think I would submit again, but after remembering how many wonderful people I met the previous year I figured I would try again and see what happens. To my surprise I made it through the online voting portion! I honestly did not expect to win, I was just going there to have a good time. I chose an act that felt true to me. My "DRAGON LADY" act was inspired by all the Asian exotic dancers that came before me, many of whom I've had the pleasure of performing with and for. In this act I blend this classic Asian element with my love for rock 'n roll.
M.S. Any hints to drop about your step down performance in 2018? What can we look forward to?
F.F. All I can say about my step down performance is, be ready for a Wild Ride 😉
M.S. Lastly- what tips do you have for those wanting to compete next year at VLV 21? What do wish you would have known?
F.F. My advice for those competing next year: I think the most important part about performing is to have fun and enjoy yourself.  When you're having fun on stage that energy carries into the audience and they can feel your presence.
M.S. Any last words?
F.F. Don't let negative people or energy knock you down. Work hard, stay positive and true to yourself, it will pay off in the end.
Check out Frankie's website at https://www.frankiefictitious.com/
Top Photo and Last photo By Shannon Brooke. Crown and Sash Photo by Gina Barbara
-Madeline Sinclaire